Facilities and Events ...
Treat yourself to a visit at Klitz-Gras Chalets with our thatched wooden cabins and decor inspired by natural elements combined with traditional African art for a warm and comfortable atmosphere yet a luxurious experience. Situated on the bank of three large dams, with wide open spaces, green grasses and invigorating fresh air! Klitzgras now boasts three dams for your enjoyment.
Enjoy a sundowner on your own private wooden deck watching the sun set behind the beautiful Steenkampsberg, have a barbeque braai, or try your luck catching a Carp, blackbass, catfish or trout on booked daytrips to several dams in the area. Contact Wizard Corner (Maruis Brits) 072 273 2834 or email: wizardbrits@yahoo.com for valid permits and tickets.
Wizard Corner is close to Klitzgras Chalets - situated in the Jock Stalls - where all information about flyfishing is available.
FACILITIES
BIRDWATCHING ...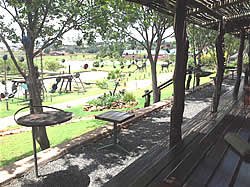 The chalets overlook a natural valley abundant with bird species, with several rare species spotted by avid birdwatchers.
There are now 3 dams at Klitzgras. Bring your own rods and reels, and try your luck! Naturally, we can't guarantee your catch, but we can guarantee your fun!
FISHING ...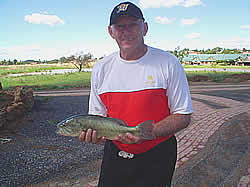 The three dams, a few steps from the patio, are alive with several fish species, including Swartbaars and Kurpers, and visitors are welcome to try their fishing skills.
Springbok, Gerrie Germishuys enjoys a stay at Klitzgras .... as successful at fishing as at rugby !!!
WALKING ...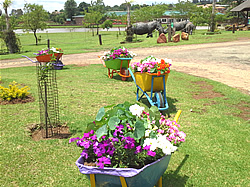 Enjoy walking around the estate - entertaining for young and old, with streams and exotic wild flowers a feast for the eye.
There are Several hiking trails in the vicinity to entertain young and old, with streams and exotic wild flowers a feast for the eye. Unfortunately we do not allow any pets at our establishment.
EVENTS

Klitzgras Chalets is the ideal venue for a large variety of events and functions.
With the addition or our wedding chapel, we can now cater for all functions
Accommodation is provided right here, so never any drinking and driving!
Enjoy your event
....... and just stay over!